Everyone has heard the phrase "a picture is worth a thousand words" and this sentiment applies to communities as well. The presence of public art, or lack thereof, immediately gives the viewer an impression about your community. It can tell a story about your past, indicate the quality of life in the present, and offer a vision for the future.
Many communities overlook art as a luxury they can't afforded but it doesn't have to be expensive – and can easily be scalable. Regardless of the cost the effects of art in economic and social development, community pride, and even public health is an undeniably powerful tool and worthy investment.
Finally, public art can enhance and encourage tourism by welcoming and guiding visitors through town toward local amenities and points of interest all while helping Cambridge Springs differentiate itself from any other community out there.
This public art plan focuses on the following three strategies:
More Public Art Please
Artist Alley – Activation of Space
Art as information – Wayfinding
Public art is an excellent way to meet some of the intended goals of this placemaking action plan; help create a more vibrant downtown, inspire a sense of community pride, and expand a tourism strategy all while leveraging existing assets and creating a consistent community brand. The overall goals for this public art plan are:
Beautification
Define space + create community spaces
Create a sense of place + amplify community branding
To guide and give direction
Tell the story of Cambridge – past, present, and future
Become an attractor – invites engagement / exploration
Improve public perception
While each piece should be uniquely designed for its specific location and intended purpose while reflecting the artist's personal style, an overall theme helps to reinforce consistency in the community's brand.
Atlas recommends an overarching theme to be focused on outdoor recreation, specifically the identity of a water town, and Cambridge Springs's rich and interesting history.
A water town with a rich heritage
There are endless opportunities for installations featuring adventurous, outdoorsy recreation, in and out of the water, plus highlighting unique historical and cultural elements such as the hot springs, President Taft visit, halfway point train route, Alliance College, and Polish / slavic culture and heritage.
Hellbender
In addition to the historic water town theme we also highly recommend creating some fun and playful installations featuring the Eastern Hellbender Salamander, the official amphibian of Pennsylvania.
The Western Pennsylvania Conservancy describes these creatures as "Elusive and strangely endearing" and we couldn't agree more to their charming allure.
The Eastern Hellbender is the largest salamander in North America, can grow to two feet and live up to 50 years. It can be found in rivers and streams across Pennsylvania including French Creek. Despite the fact that it is the official amphibian of Pennsylvania, there seems to be almost no Hellbenders in public art. We think this strange and charming creature is truly a unique asset that should be celebrated.
While this species is not endangered it is at significant risk due to declining populations. Using public art to increase education and awareness would be an excellent opportunity to ensure future generations of conservation. Perhaps there is an opportunity for partnership with The Western Pennsylvania Conservancy, Crawford County Conservation, Pennsylvania Departments of Environmental Protection, and Conservation and Natural Resources.
Similar creature feature public art installation
"New Mural Highlights Peregrine Falcones in Downtown Harrisburg" 
via Our Common Wealth DEP Blog
Check It Out
Humans are visual creatures. Our eyes are attracted to things that are interesting and pleasing. Creating spaces and places that are engaging and inviting will significantly improve public perception and enhance the existing small town culture and feel.
Art can be an excellent community builder especially if there are significant public engagement opportunities in the ideation, selection or creation of installations. Community involvement gives local ownership, builds pride, and grows more local champions.
Yes, please! So how do we get more art?
There are endless ways to implement a public arts strategy, and the good news is it doesn't have to cost a lot and the ripple effect can be significant. Our recommendation is to start with a couple low budget but high impact projects to get public buy in and scale up as you go. If people believe in the vision, there will be no shortage of ways to participate in the creation of public engagement.
Implementation Ideas to get started:
Murals
Remember, murals are just one piece of the puzzle! A well rounded art strategy should include a wide variety of mediums but murals are a great place to start due to high impact potential and are an excellent engagement opportunity.
3D kayak sculptures for photo op
Commission signs or sculptures that look like kayaks that participants can stand behind for a photoshoot.
Painted sidewalks and crosswalks
An excellent way to highlight an area of importance, naturally slow traffic, and increase pedestrian traffic.
Unexpected places
Utility boxes, alleyways, trash bins and dumpsters, electrical poles, benches, stairs, and doors
French Creek entrance
Creek entrance at Fireman's park and possibly upstream leading up to the launch site.
Sidewalk grates
What a great reminder in a water town that all drains lead to the watershed.
Paint empty storefront windows
Work with building owners to have the windows painted of a vacant space. This simple tactic provides temporary beautification while distracting from commercial vacancies.
Playscaping at Fireman's Park
Think beyond traditional playgrounds. Playscaping can be art that you climb on and engage with. Continue the watertown brand with watercraft themed installations.
Directional signage (traditional and non traditional)
Use kayaks, canoes and paddles for signage or 3D elements
Live music, dance, and theatrical performances
Visual areas is a great place to start due to year round enjoyment. But performance based arts will significantly improve your overall public art strategy. Start by creating more public spaces and fostering a creative community in order to attract more live performances.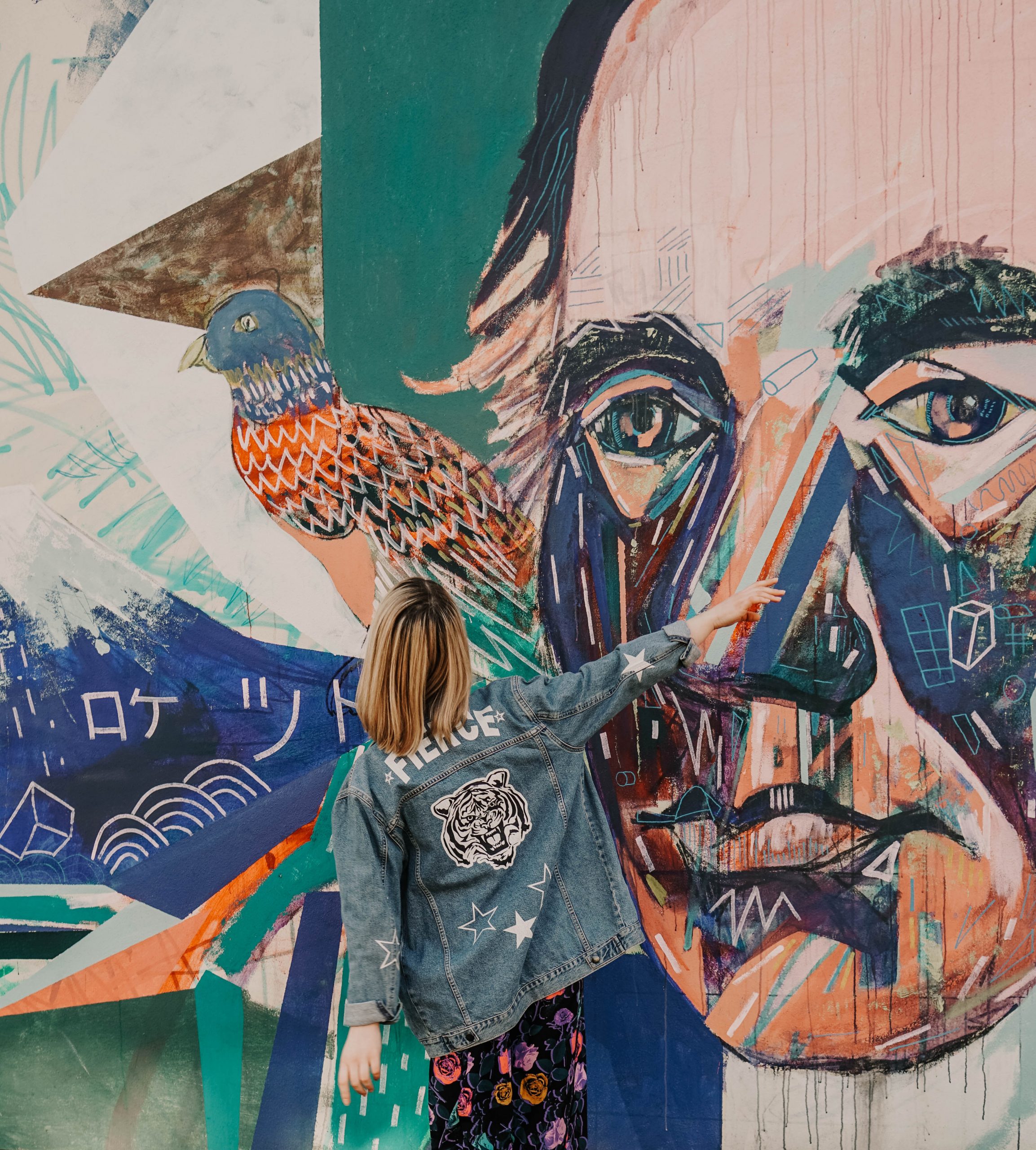 Boat Playground
Learning Landscapes Design created a variety of super cool boat-shaped structures for play! 
via Learning Landscapes Playscapes Blog
Check It Out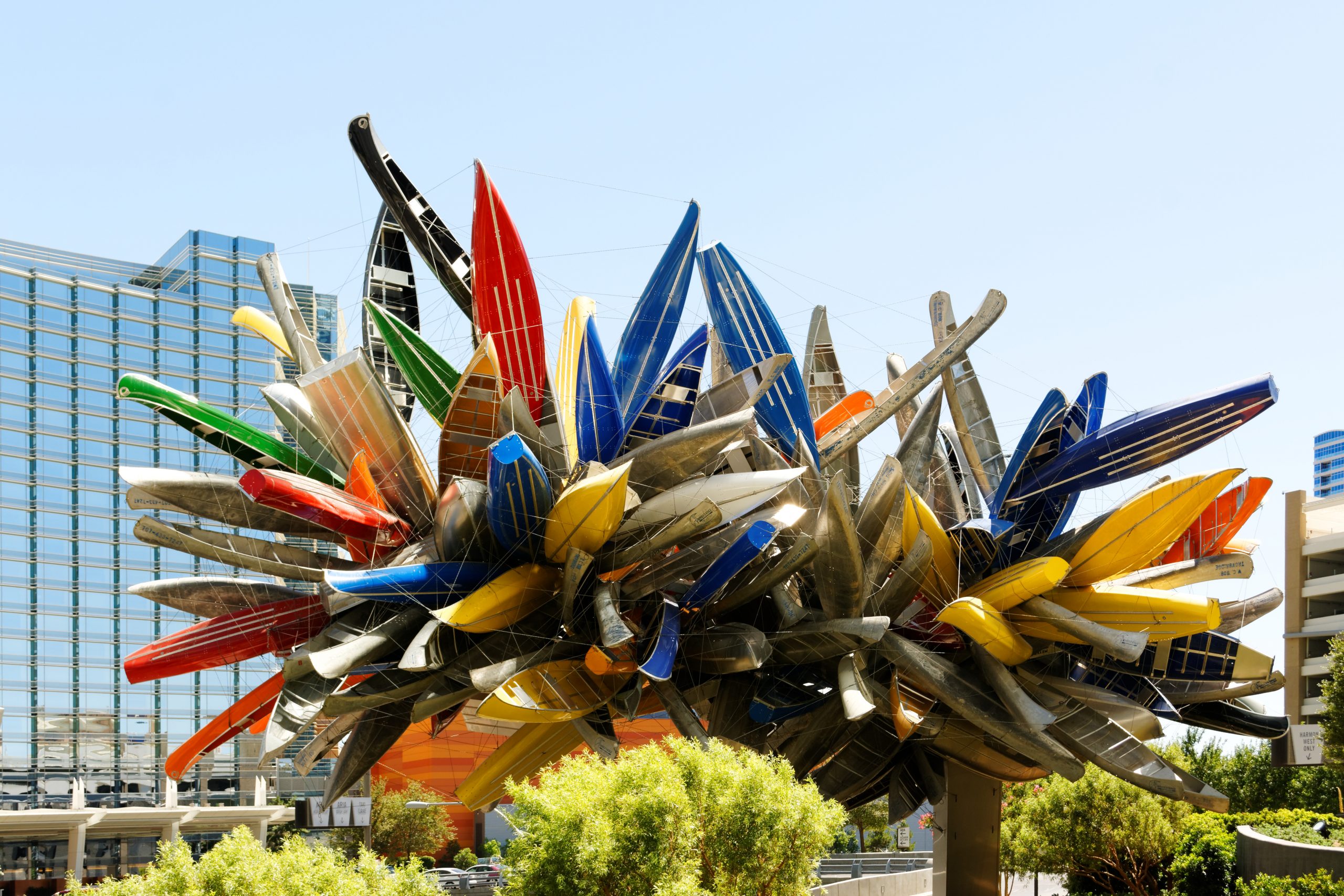 A company founded with the goal to make people smile on a rainy day. Rainworks was started by Peregrine Church, a 20 year old from Seattle.
Peregrine thought he could use a super-hydrophobic coating to repel water and keep surfaces dry, creating hidden messages that only appear on rainy days.
According to Rainworks website there are no installations of a significant size anywhere in the northeast. If Cambridge Springs came together to create some significant installations city wide this could be a major draw and an excellent media opportunity. Since these installations only last 2-4 months, this could become an excellent spring activity, perhaps with local high school students.
Muskegon Lakeshore Art Festival
This annual summer art festival has embraced their lakeside life including a few years featuring kayak sculptures. These artistically designed kayak installations decorated the town through the festival and the whole summer.
Other cool ideas: In 2019, two kayaks were live painted during the festival, in the the children's section, so spectators could watch the artist at work in person and possibly participate.
Read: See why a bear and a mermaid are in kayaks downtown Muskegon, MLive.com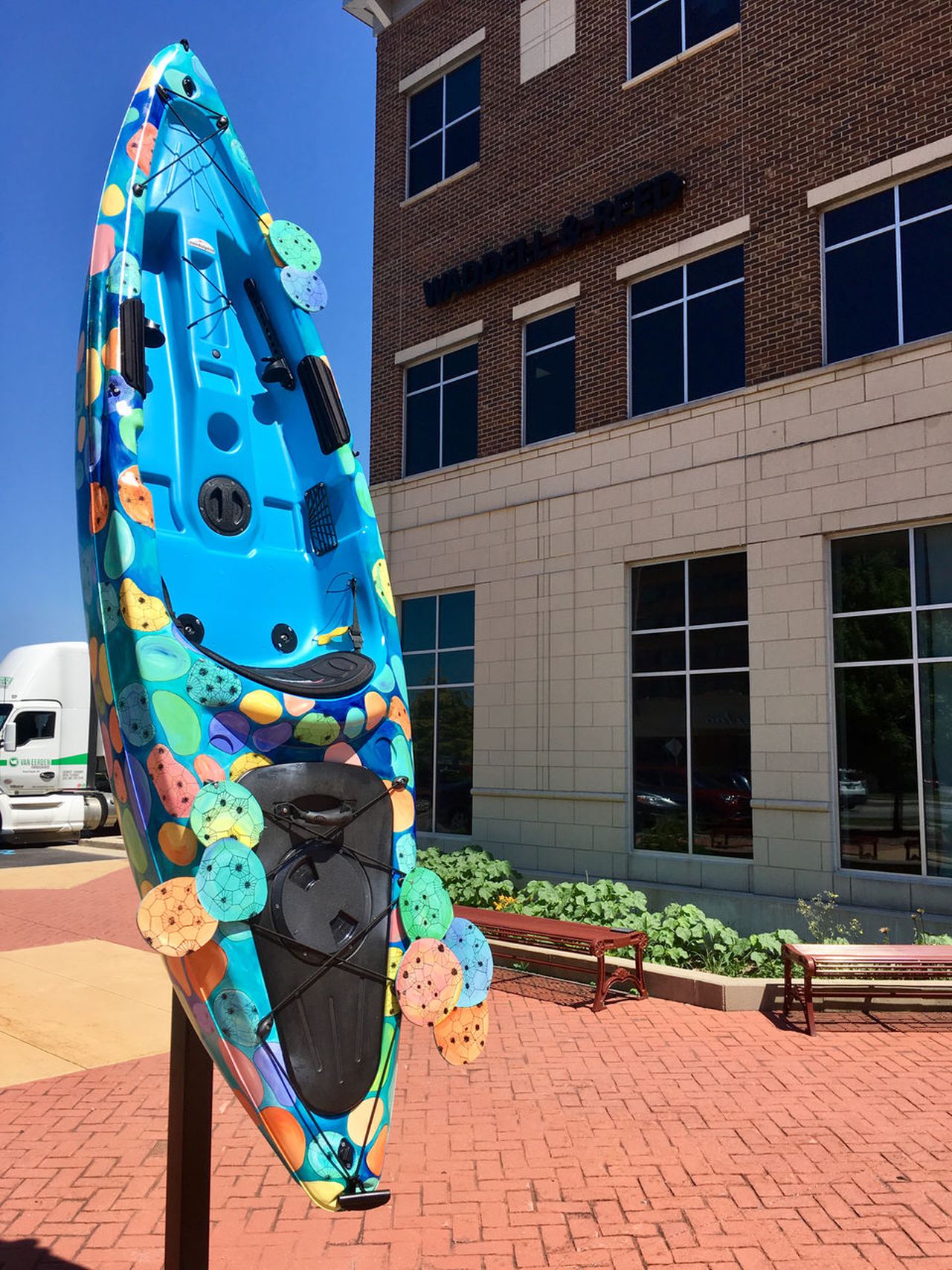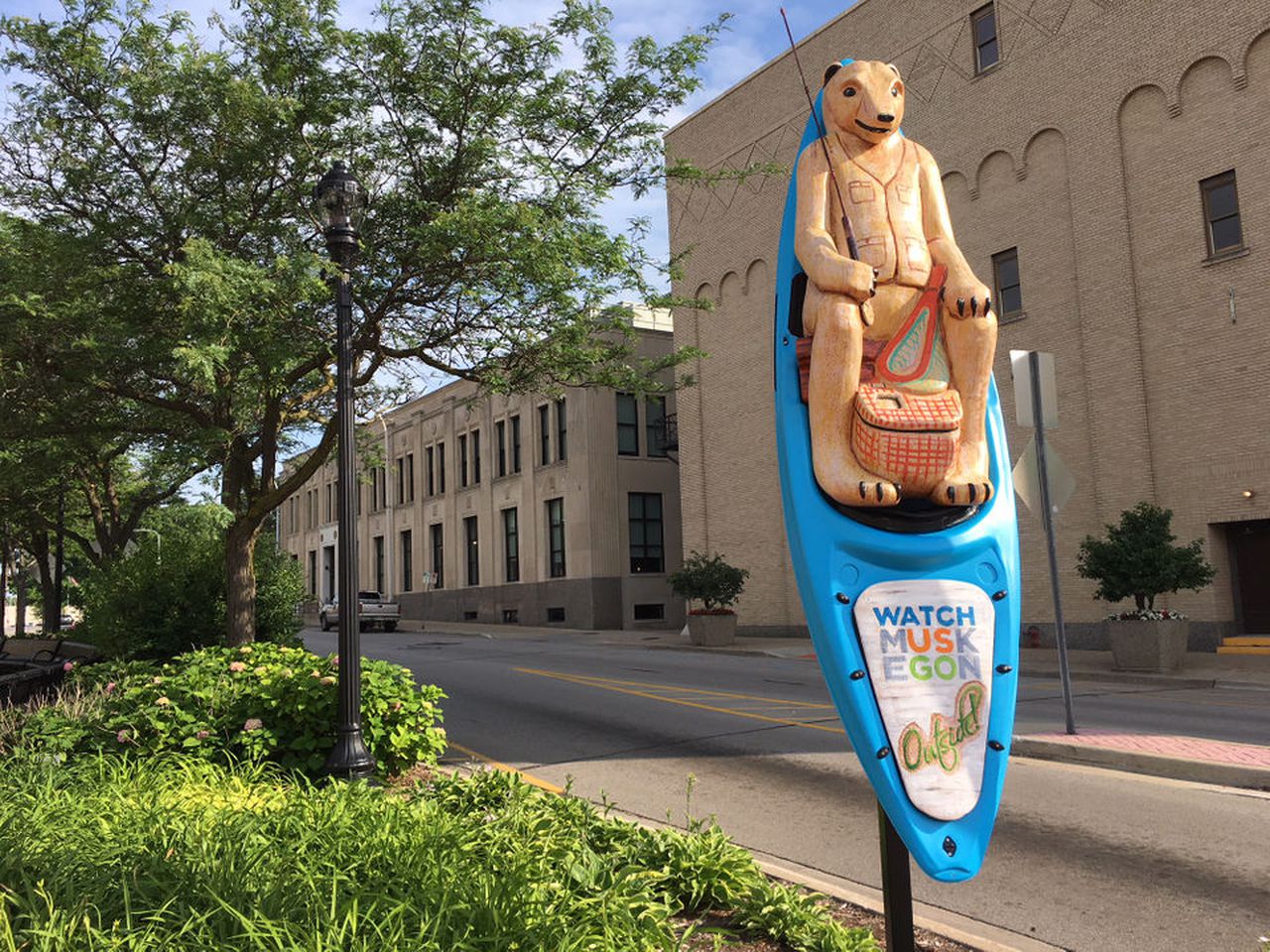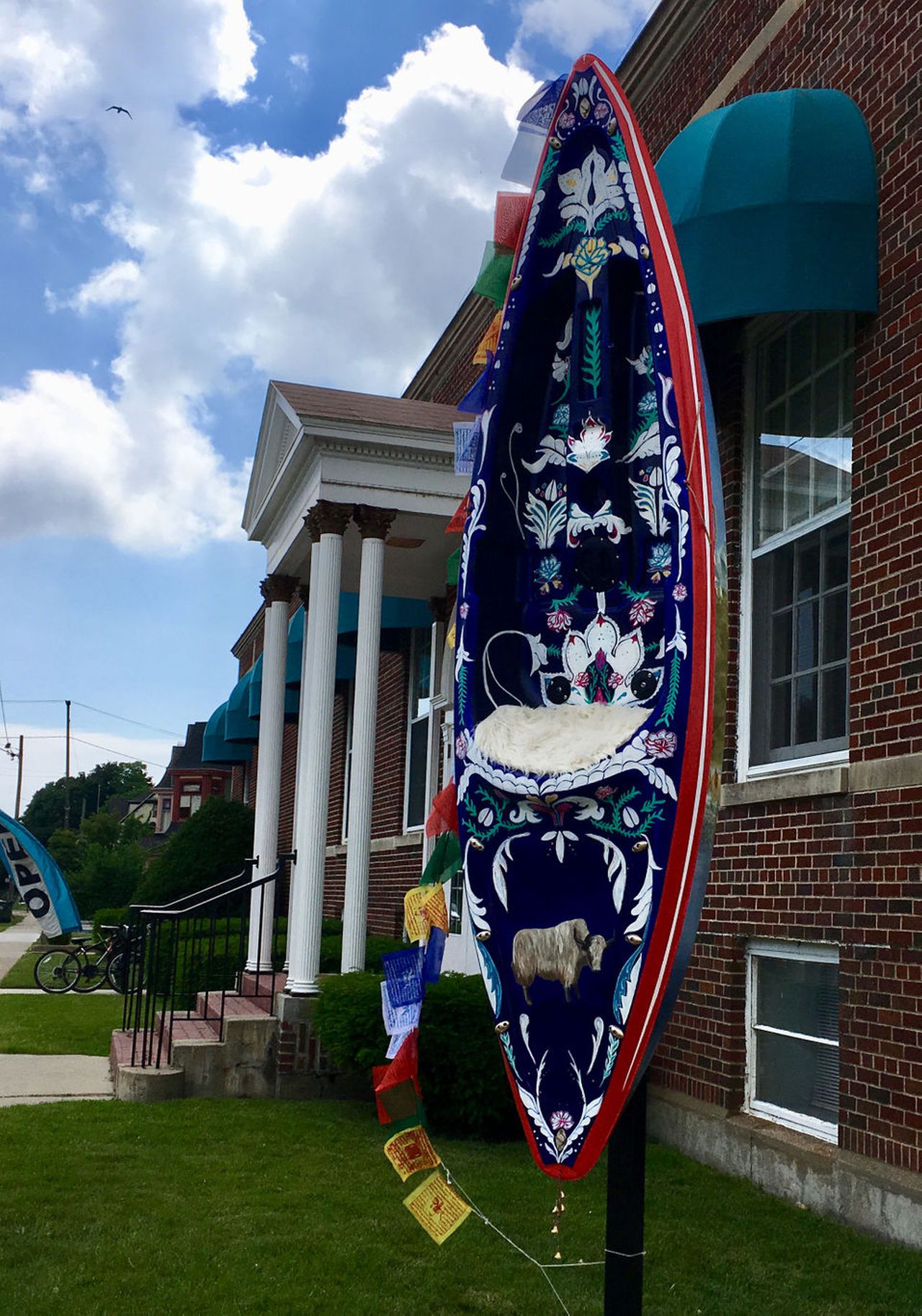 Festival Inspire is a free, week-long, non-profit street arts festival in Moncton, Canada with a goal to transform the cityscape into a visual wonderland with murals, live art, interactive installations, performances and music.
Everything is done is high traffic, high visibility areas encouraging all to participate. Additional emphasis is on vacant or derelict spaces that could use new life through reactivation. Check out the murals here.
Cool idea alert: Each year the festival lets kids design the logo.
Sprocket Mural WorksHarrisburg Mural Fest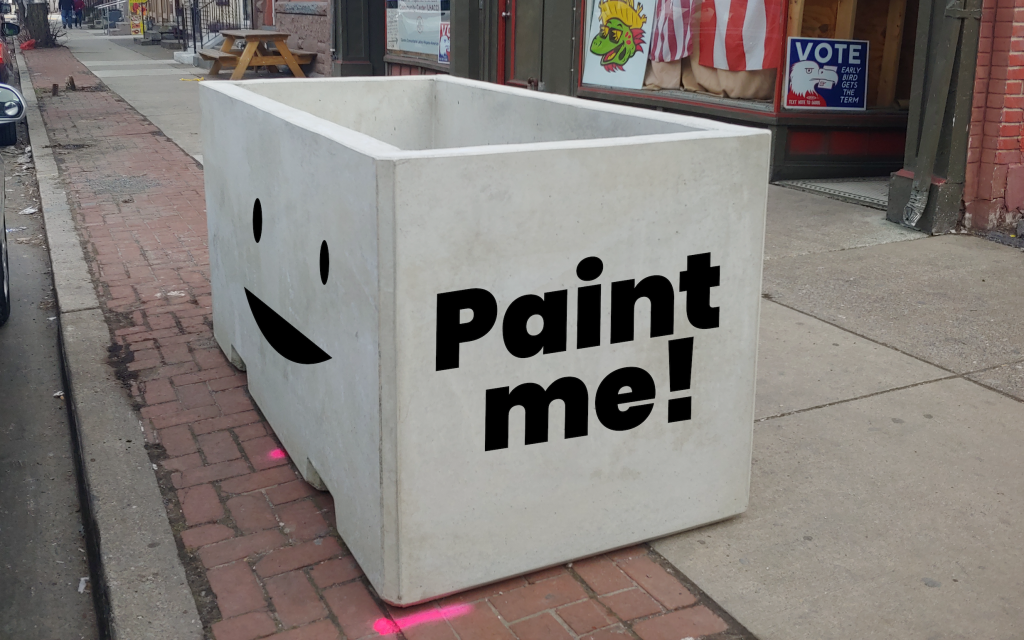 Another great example of a citywide mural project and festival that works with artists, organizations, and neighbors with the goal to create vibrancy, increase community pride and build civic engagement through creative action.
Murals are to be colorful and are intended to inspire and uplift the community. Themes and subject matter are selected from community input. Sprocket is a 501c3 and a 100% volunteer run organization.
Cool idea alert: Planter box painting: Call for artists!
As a summer beautification project the Tri County Community Action Network puts out a call for artists to paint planter boxes throughout the community with a goal to enhance and brighten the neighborhoods. The subject should be focused on what the artist loves about the neighborhood as well as highlight the culture and diversity of the city.
One challenge of downtown Cambridge Springs related to public space is the shape. There isn't a traditional town square and the convergence of Venango Ave. and Main St. leave Marcy Park as a thin wedge between busy streets.
Cambridge could greatly benefit from more public spaces to encourage social engagement, community development, and artistic and cultural activities.
The good news is almost any old space can become a viable and cherished public amenity. Alleys are often forgotten spaces, seen solely for utility, however they hold great potential for highly utilized public space. With some attention, creative thinking, and a little work any alley can become an extraordinary public amenity enhancing the character of the community.  
Public space can be any space! 
Entrance Archway: Welcoming guests and indicating something exciting is in here.
Recreation: A basketball half court, lawn games like bags
Tables and chairs, benches
Plants: Planters, green (living) walls, edible alley gardens – improve air quality, atmosphere and help create comfortable and inviting space.
Mini stage/backdrop for live music
Art: Public art shows that alleys are cared for and help create a sense of community and visually indicate safe and inviting spaces.

Interactive art:

 Installations where people can continually participate over time are always a fun and engaging experience.
Lighting:

 Basics are important for creating a safe and comfortable environment. Hanging lights overhead can create ambiance and a fun atmosphere. Lighting can even be artistic, adding interest and excitement.

Canopies: Help create an intimate and exciting space, drawing attention while also being a functional component for shade and protection from elements. Can be traditional or creative installations
Water collection: Water barrels for rainwater collection and reuse. Especially helpful if there are planters in the space.
Sounds Great! Where should it go?
This concept of activating underutilized spaces, large and small, can be used anywhere but we recommend starting with Wall Street between Venango Ave and Main St. Centrally located downtown, a block from Marcy's park, across from Bartlett Gardens and adjacent to Kelly Run Gallery Wall street would make an excellent pocket park.
One challenge of this space is the need for vehicle access to the parking and municipal garage building in the center. To allow for vehicle traffic from Venango and safe pedestrian space toward Main street we recommend removing the one way and designating the SW half of Wall street for pedestrian use only (from the back of the buildings to Main Street). There is even a little storefront on Wall Street behind the Gallery that would make for a perfect small business.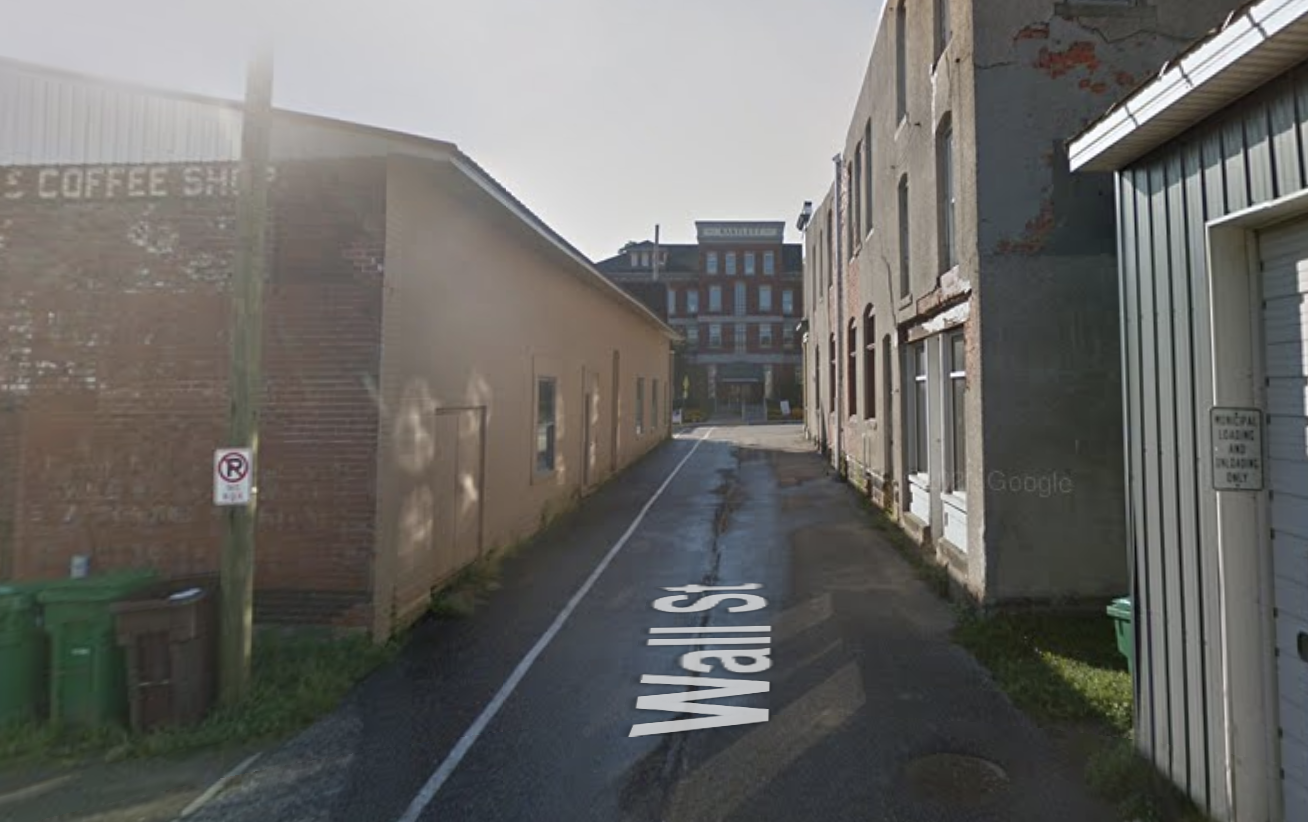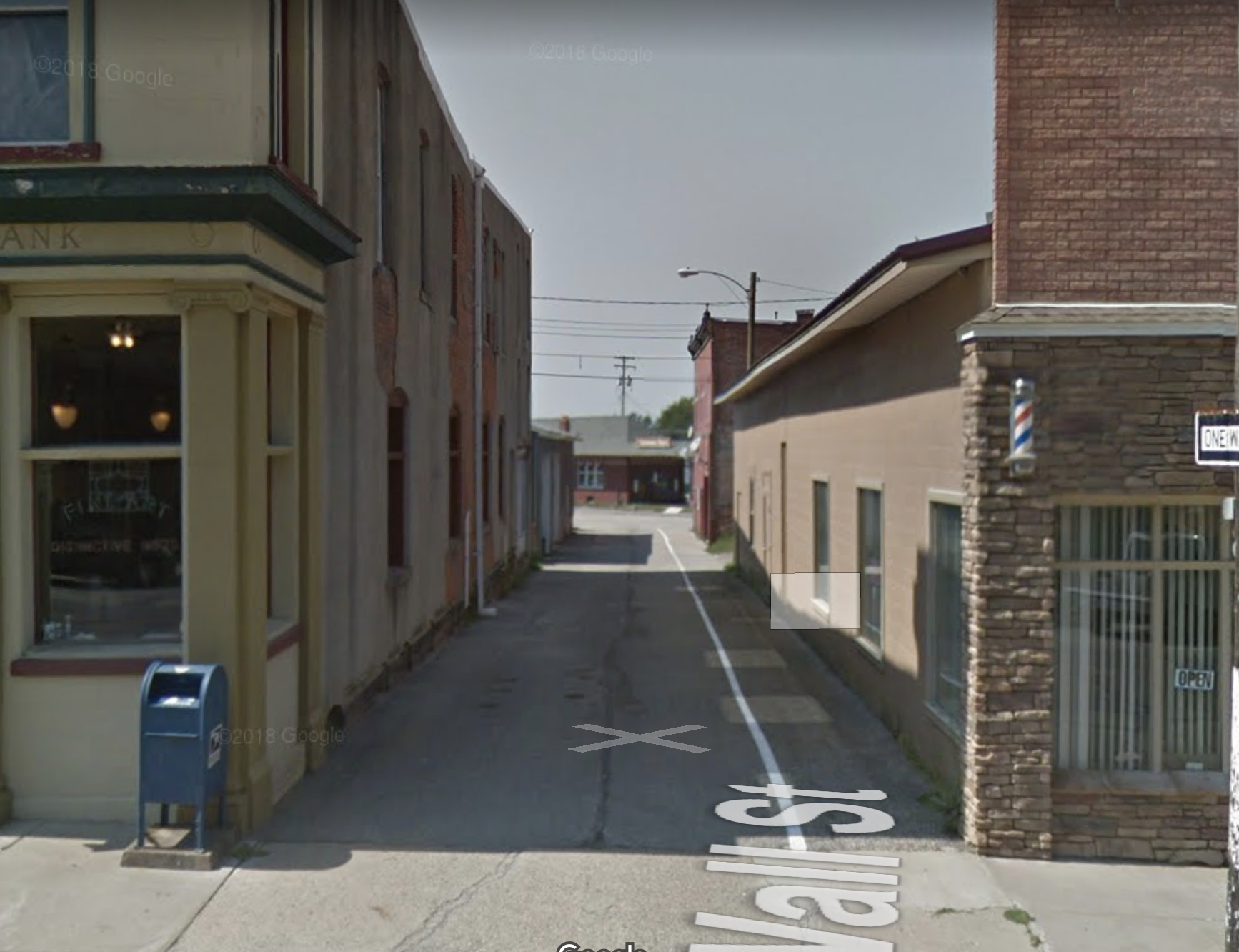 If the Wall Street Alley park and other public art concepts pick up momentum a big project for consideration is activating that whole block as an entertainment district. The block already has a few key components such as a gallery, eatery and fine chocolate shop as well as a large courtyard in the center. 
The unfortunate loss of the 276-278 Main St. buildings to a fire have also presented the opportunity for access to a larger outdoor community space. This space could be excellent for a large outdoor patio area with tables, chairs and benches, a stage for live music and performances, bike racks and landscaping. This could easily be an inviting, comfortable and lively space. The adjacent building could possibly have garage doors that open up on the side with a coffee shop downstairs, and airbnb or community event space. Finally, even with all these additions there could possibly still be space for parking and space for food trucks.
Note: this property is currently privately owned but this concept has been discussed with the owners as a potential vision for the space. A public-private partnership for development might be a valuable approach as it would serve a valuable community need.
For this vision to come to life the municipal garage space on Venango Ave. and Wall St. would need to be relocated and creative incentives to put all vacant buildings back into active use would need to be utilized. This might seem like a huge project but it's entirely realistic and could not only fulfill many of the existing challenges in one space but also and potentially become a significant economic and social driver for the community.
Pink Alley, aka Alley-Oop - Downtown Vancouver
An old and dreary alleyway like any other, transformed into a bright and vibrant community space thanks to the "More Awesome Now" project.
The walls and ground of the alley was covered in electric shades of pink and yellow and complemented by art installations, basketball hoops were added. Pink Alley is an excellent spot to relax, mingle, play, and be creative.
Fun Alley - Downtown Vancouver
In addition to Pink Alley, Vancouver is also home to Fun Alley, a very colorful and playful pocket park and one of the most popular art installations in the community, not to mention a perfect selfie spot. 
An additionally cool feature is the installation was created through a program called "Studio In The City", hosted by the city to provide youth ages 15-19 summer apprenticeships in the arts. The students are given a space to design and are paid to bring their design to life. Cool art for city residents, professional development through a paid summer experience, and a portfolio piece for the student – Win/Win!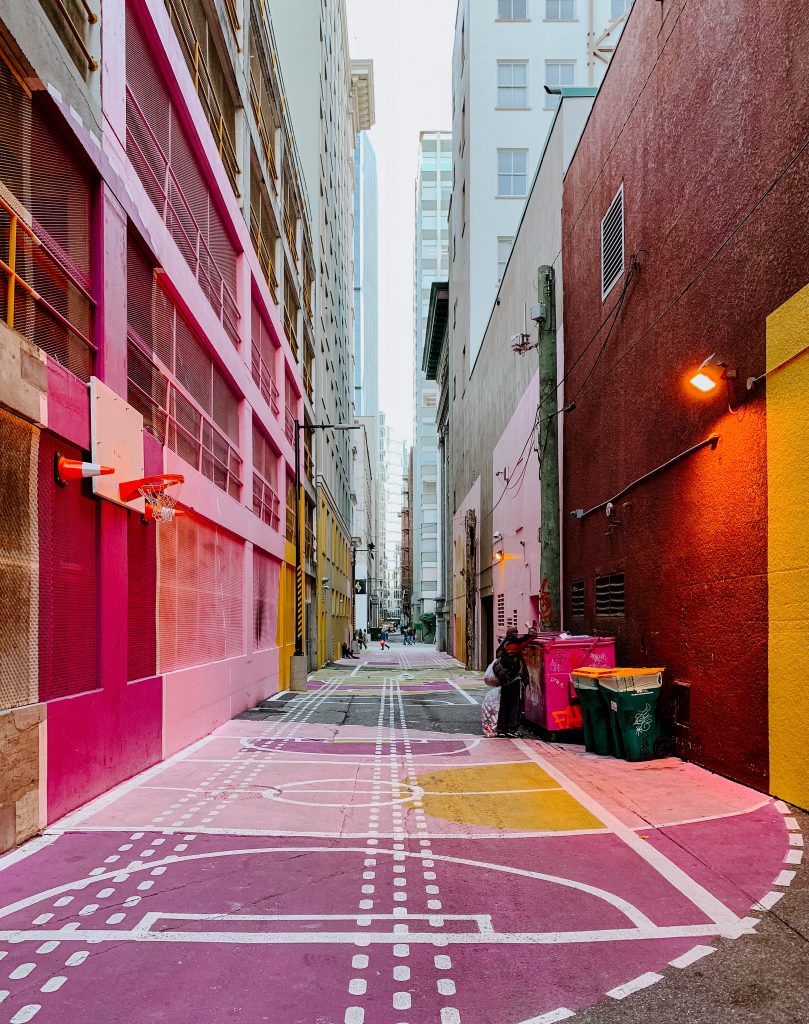 Camden's Main Street program transformed its Broad Street alley into a vibrant throughway for shoppers and diners. The city made the makeover a community event by inviting the public to stop by and then teaching visitors how to make stained glass–like globes out of tissue paper. The completed art pieces, LED string lights and UV shade canopies helped to create a decorative, open ceiling. Benches and planters were later added to turn the space into an elegant outdoor gathering place.
Meet Us in the Alley!
"Too many narrow spaces between and behind buildings have gotten a bad rap. That's why communities are "activating" their alleyways", via AARP Livable Communities
Check It Out
Patrick Alley Pocket Park - Sprocket Mural Works
Patrick Alley and Sayford Street present a unique opportunity to transform two underused alleyways into vibrant a green space for the community to enjoy. Friends of Midtown and Sprocket Mural Works have partnered to reimagine this location. We share a vision to promote health, happiness, and well-being through placemaking concepts in this space.
In 2020, two community clean-ups took place at Patrick Alley, a neglected area that has had problems with illegal dumping, loitering, and graffiti. Volunteers removed bagfuls of litter and weeds and spread new mulch. Over 50 perennials were planted in the ground and in the five new planters purchased for this project.
Wayfinding signage at its core gives direction and helps people to seamlessly navigate through a space. Combined with public art it can not only serve as a guide, but tell a story and create more interesting places that call for exploration. This added vibrancy can be extremely valuable not only for visitors but also to inspire a sense of community pride for residents.
A professional wayfinding strategy created by artists or designers, compared to standard, uniform signage gives a space the power of individuality and can allow your space to be both unique and organized. Public art as wayfinding can be represented through more than signage and can show up as sculptures or installations that define a location.
French Creek is a critical route of transport through Cambridge Springs and offers a unique "Gateway" opportunity to river enthusiasts. The canoe/kayak launch at Fireman's Park is an ideal location for an artistic entrance to Cambridge Springs connecting the water to the main business district.
The style of each piece will vary by artist but the overall aesthetic of the wayfinding elements should have a cohesive look and feel to the overall branding and marketing.
We recommend continuing on the historic watertown identity with a vibrant and modern color palette, incorporating water recreation themed markers as much as possible.
Near French Creek, however, any signage and elements might consider a more muted tone to not clutter the beautiful natural environment.
Unlike many rural communities with one highway in and out, Cambridge Springs has the benefit of having five major entry points to the borough. According to the PennDOT 2020 Traffic Volume map for Crawford County, the annual average daily traffic through Cambridge Springs totals more than 7,800 vehicles passing through the community each day. (Not to mention the recreation enthusiasts passing through via french creek)
Are these visitors aware of what Cambridge Springs has to offer? 
Let's get people out of their cars, or kayaks, and exploring!
Locations for signage or installations should be prioritized by impact. Some suggested locations for consideration include:
Signage

Marcy Park (triangle island) on Main Street
French Creek Access Alley

Sculpture

Triangle island on Main Street
Gateway entrance from French Creek
Venango & Wall Street – Alleyway entrance

Murals – starting ideas
As with every public project in every small town, capacity and funding are usually limited resources. Public art installations can vary widely in price depending on the medium, size, location, prep, materials, and artist. The great news is many public art projects can be done with a small budget as long as there is community buy-in to donate time, talent and resources to make it happen.
Additionally, there is a significant amount of resources available to pay for it as Cambridge Springs is ready to scale up to bigger projects.
Before applying for funding, the most important part is having a vision, a plan, dedicated leadership, and an implementation strategy.
For implementation, here are a couple models for consideration for additional human capital.
Internships/Apprenticeships – Youth engagement through summer internships with the city

Example: Studio in the city
Studio in the City is an annual program that provides youth ages 15 – 19 with opportunities to apprentice in the arts on various canvases and landscapes throughout the City.

Young professionals – sometimes communities can get great results asking local young professionals to lead public art programs. It is an exciting and tangible opportunity to make a difference in the community and helps build new local champions.
PennSERVE / Americorps VISTA – The public art plan may be eligible for additional implementation support by hosting an Americorps member. There are a number of relevant examples of how this partnership could work, here are a few:
Grant funding is available on a Federal (Competitive) and State (Formula) level.
Contact the PennSERVE Office for more information
National Endowment for the Arts: Our Town Program
National Endowment for the Arts: Challenge America
PA Historical & Museum Commission
True Value Painting a Brighter Future Grant
COVID-19 Cultural & Museum Preservation Grant Program
National Endowment for the Arts: Our Town Program
Creative placemaking grants program
Project-based funding for arts, culture, and design activities that strengthen communities by advancing local economic, physical, and/or social outcomes.Requires a partnership between a local government entity and nonprofit organization.
Due Date: Possibly August, but the next round has not been announced
Amount: Cost share/matching grants range from $25,000 to $150,000, with a minimum cost share/match equal to the grant amount.
National Endowment for the Arts: Challenge America
PA Historical & Museum Commission
True Value Painting a Brighter Future Grant
COVID-19 Cultural & Museum Preservation Grant Program
Western Pennsylvania Conservancy - Community Gardens & Greenspace
DEP's Environmental Education Grants Program
Heinz Endowment Grants
Western Pennsylvania Conservancy - Community Gardens & Greenspace
DEP's Environmental Education Grants Program
Heinz Endowment Grants